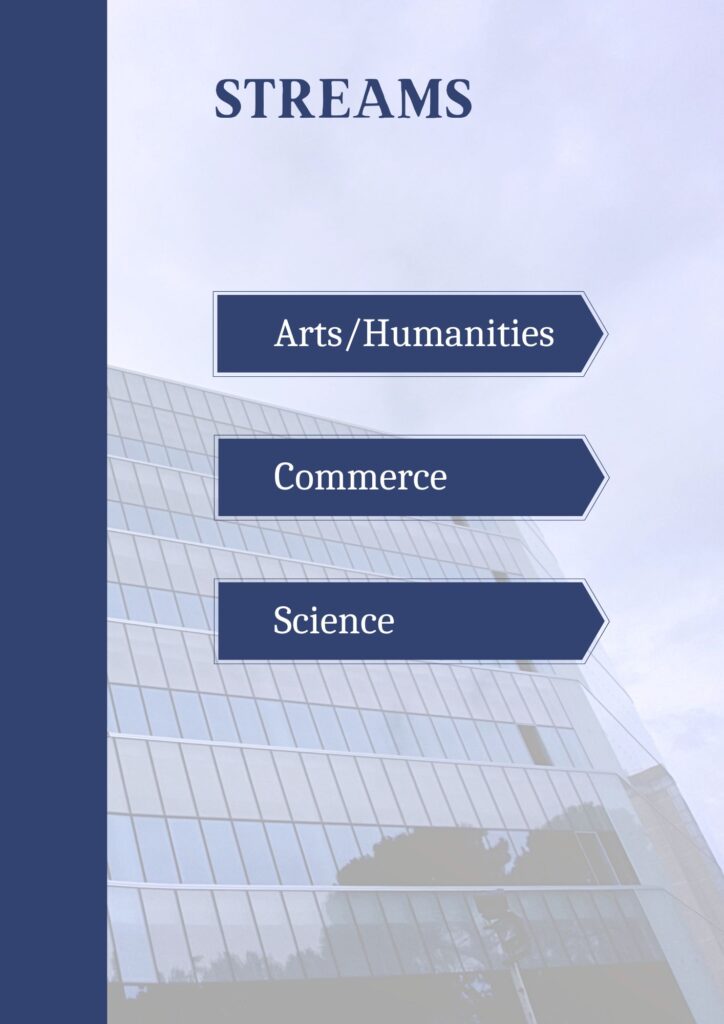 Streams for students are available and stream selection is a decision to be made with careful analysis. As a career coach I believe that it is very important to be aware of the career choices available and it is not just the availability but availability at the right time.
Most of the students and friends I have seen are not clear about what they actually want to do and what they can do.
Some decide to opt for a stream of their parent's choice, some follow their siblings and some as usual decide to be a doctor, a chartered accountant or an engineer.
But it is the 21st century and with the advancement of science and technology and the changing world, options are not limited. It is very important to be aware at the right time.
Students, teachers and the parents need to be aware of the streams available to the students in different boards i.e. ICSE, CBSE, and UP board.
Are streams available in class 9th?
ICSE board gives the choice to students to select their stream in class 9th. CBSE and UP bars give choices in class 11.
What are the streams in class 11?
There are majorly three streams available for a CBSE student in class 11. These are:
Arts/Humanities
Commerce
Science
Arts/Humanities:
There are various misunderstandings about this stream. You would have heard people saying "there is nothing there on the art side", "you will end up doing nothing", "not studying is better than taking art side" , "is it even a field to select?".But the world is changing today. There are multiple options available to you when you choose humanities
It was even considered a stream for the students who were not academically good and still people hold this notion. If an academically good student wants to go for the humanities stream, many people will come and criticise.
Humanities covers a wide range of areas. If one wants to understand the world, its affairs, society,how people live in groups, how do they interact, how laws are formed and why they are not followed, how human mind works, why do people behave in a way they do and most importantly hoe world can be made a better place to live in, humanities covers it all.
What are the subjects available in Humanities in class 11?
Humanities offer a wide range of choices to students.
Main subjects available in humanities in class 11:
Political Science
Psychology
History
Geography
Economics
Sociology
Optional Subjects with Humanities include:
Maths, Home Science, Fine Arts, Physical Education, Legal studies, Media Studies
Depending upon the school, students can opt for a combination of their choice but before opting for any combination it is important to be aware of the career options available for each combination of subjects.
Humanities with Mathematics is another combination that is becoming popular with students these days. Keeping maths as your optional subject opens up career options for you in Economics Finance.
What career options are available with the arts/humanities stream?
Less awareness about humanities as a stream makes people think that there are various less options available. But as said, the world is changing and with the changing world options are manifold.
Few of the possible fields available due to the wide applicability of humanities are:
Social Work
Sociology
Photography
Psychology
Economics
Management
Law
Design
History
Archaeology
International Relations
Event Management
Hotel management
Mass Communication
Journalism
Civil Services
Fashion Communication
Content Writing etc.
Humanities is not just limited to the options stated above. This field is growing rapidly nd many more options are available such as such as Gerontology, Public Policy, Habitat Policy and Practice, Gender Studies, Rural Studies and Development, Museology, and Art Restoration, etc
Gerontology: study of ageing and older adults.
Museology: study of museums
Commerce:
There have been certain myths about commerce too. You would have often heard people saying that one who are from business family they should only choose commerce,
Commerce is a field that relates to the study of business, trade and finance. Commerce students study about the exchange of goods and services, how exchange started, how businesses operate, how financial transactions occur, how the economy of the country works, how demand and supply interacts, why there is inflation and more. Commerce is related to day to day activities too and it makes it more interesting to study.
Studying mathematics is not compulsory if you decide to take up commerce. But it is good to have a strong hold over calculations and fundamentals of maths, and the ability to deal with large amounts of data.
What are the subjects available in commerce in class 11?
The following are the subjects you are required to study:
Accountancy
Business Studies/commercial studies
Economics
English
Mathematics (optional subject)
Accountancy as a subject covers concepts related to the managing of the income and finances of a business or an individual. It covers topics like transactions, expenditure, cash books, memos,Journal, trial balance, trading, profit and loss, Balance sheet, Bank reconciliation statement etc.
As part of Business Studies or commercial studies you study about the types of businesses and organisations, sole proprietorship, partnership, private company, differences between private and public sector companies, models of business, business finance, international trade, banking etc.
For Economics, you study about Indian economic development, statistical tools, demand and supply, Inflation and deflation, government budget, Microeconomy, Macroeconom etc.
The board gives a choice between Mathematics and other elective subjects. Thus, if you are not very comfortable with maths, you can choose another subject.
The optional subjects available with the Commerce stream are:
Informatics Practices
Physical Education,
Computer Science
Multimedia and Web Technology
Entrepreneurship,
Hindi
Legal Studies
Psychology and
Fine Arts
What career options are available with the commerce stream?
Chartered Accountancy (CA)
Company Secretary (CS)
Actuarial Science
Management
Economics
Investment Banking
Stockbroking
Finance Hotel Management
Entrepreneurship
Law
Bank PO
Science:
If you have been an academically good student, you would have often heard people saying " you should go for science", "if you take science you will be successful", "there is nothing without science"
The Science stream relates to the study of the physical and natural world. It also helps to understand the occurrence and the reason behind the occurrence of a phenomenon.
To be successful in this stream what is required is interest, innate curiosity , logical thinking and keenness to explore.
What are the subjects in science available in class 11?
The science stream has two sub-branches:
Non-Medical – Physics, Chemistry, Maths, English, Optional Subject
Medical – Physics, Chemistry, Biology, English, Optional Subject
One can opt for PCM OR PCB.
PCM- physics, chemistry, maths
PCB- Physics, chemistry, biology
Physics and chemistry are common to both.
Sometimes students also go for PCMB- physics ,chemistry, maths, biology instead of choosing optional subjects in place of Mathematics.
The most commonly opted for optional subjects with science are:
Non-Medical – Computer Science, Economics, Physical Education, Engineering Drawing, Fine Arts, Psychology
Medical – Psychology, Biotechnology, Mathematics, Economics, Home Science, Fine Arts, Physical Education
What are the career options available with the science stream?
There are a lot of options to explore in this field. It is not just limited to medical field
Options:
Zoology,
Botany,
Microbiology,
Biochemistry,
Options in allied fields :
Nutrition,
Pharmacology,
Psychology,
Biotechnology, etc.
One can even explore alternate branches of medicine :
Dentistry,
Ayurveda,
Homoeopathy etc.
One can also go for allied medicine fields:
Physiotherapy,
Clinical Research,
Audiology, etc.
For PCM students or Non-medical students other than engineering options are:
Architecture,
Aviation,
Statistics,
Defence,
Design,
Ethical Hacking,
Merchant Navy,
Computer Applications,
Physics,
Chemistry etc.
How to choose a stream after class 10th?
Learn in detail about each stream
Gain understanding of the subjects
Find your interest and orientation style
Know about the scope, role
Talk to experienced people but don't follow completely
If you are confused, consult a career counsellor
https://www.brainwonders.in/blog/stream-selection-in-class-11